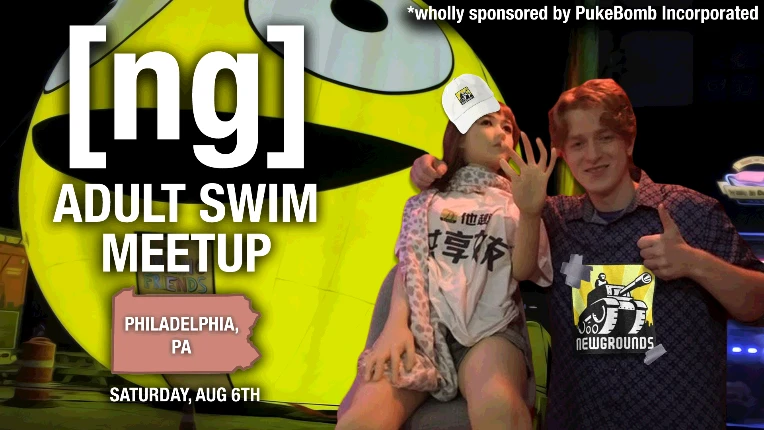 [NG] ADULT SWIM MEETUP
Where: Philadelphia, PA by the Smiling Friends Landmark
When: Likely ~5PM, More Updated Details in Discord
Who: You
This Saturday, August 6th, will mark the second day of the Adult Swim Block Party Festival in Philadelphia, PA. To celebrate Zach Hadel and Michael Cusack being given the incredibly well-deserved spotlight for Smiling Friends, our superiors at @PukeBomb Incorporated have decided it would be a great idea to do a little Newgrounds meetup on that day! For those interested, please comment on this post and I'll make sure to send you an invite to a Discord server, which can help us all stay in contact before, during, and after the block party! Since Smiling Friends will have a panel that day (1PM EST), there is likely a giant inflatable SMILE that we figured would be best to meet up at. View the picture below, depicting the location on the map.
I will, of course, be there, as well as @PukeBomb's own @thelemonman99 and everyone's favorite @SirLenward . There will be a special guest appearance by The Hammed Burglar, so you don't want to miss it! We're hoping many of you come out to enjoy the concerts, games, and food. If you were lucky and got tickets to the panels; we'll see you there, too! I'm hoping this will bring about an opportunity for us all to make some new friends and become closer as a community. See you soon!
For more details on the event itself, involving tickets or shows, please view https://adultswimfestival.com/
@Bro-son will be unable to attend, please disregard the false advertising on TMZ.
We really tried taking it down, sincerely. Sorry to get your hopes up :^/