Hello all current and (hopefully) new followers,
Welcome to my first monthly Open Door Policy | Nick Senny update (ODP|NS).
Preferably pronounced Oh-Dee-Pee-Niss...
I intend on updating all of you on the current status of The Open Door Policy and my current voice acting achievements | hopeful goals. Expect these monthly around the 8th of every month.
The Open Door Policy (2/8)
Currently, the first three episodes of ODP have been posted here on Newgrounds, with Episode 3 being just posted today. Please give it a listen if you have been following along. If not, please start listening! We're close to 1k on E1 and 2k on E2!
I have created a playlist that will contain all episodes of the show.
Make sure to follow us on Facebook, Instagram, and Twitter.
Also, please follow @cyclonebreitmayer if you have not just yet!
https://www.newgrounds.com/playlists/view/41a984a4944d67810d67c513dfab66ae
My intent for the show is to have 8 episodes per season, with a small break in-between the first four and last four episodes. This allows me to produce the show to its utmost extent and release them in a timely manner. Then, upon completion of a season, a longer break to plan and establish the upcoming season. When episodes are being uploaded, expect them to be placed here monthly on the 8th of the four consecutive months.
Fan Art / Suggestions
I'd also like to thank @CrashCanTheMan for drawing art of our newest guest, [King] Hollow Melvin (or at least a depiction of how he'd want to be displayed in one of his "animes"). Take into consideration that our guests, despite displaying themselves in one way or another, will continue to develop their personalities over time. Everyone deserves a chance to improve and find themselves. If you would like to draw fan art of Genghis or any of our other guests, please do so and tag it as #ODPfart so we can check it out!
If you have any suggestions for guests on the show, or places we should visit, please suggest and we will take it into consideration! As long as it's approved... by him.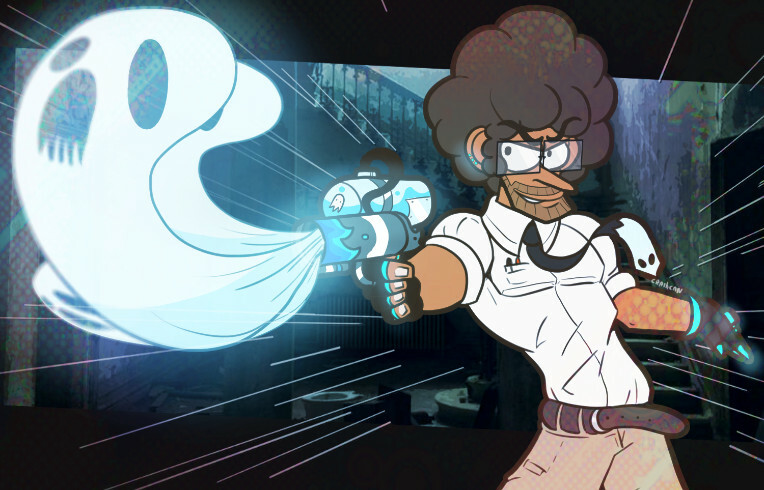 Nick Senny (2/8)
I currently have numerous projects under my belt, with a lot more to come. I am incredibly excited to share them with you, if interested (as you are still reading this). I actually share all of my recent castings and updates on my website. My particular blog posts can be found here.
Hot Topic (SpaceQuest)
Episode 2 of SpaceQuest, made by @JoshDytonVO has been released, listen now! Featuring myself, Josh, and @VoicesByCorey. Josh produces this himself and does an absolutely stellar job, alongside the soothing but pumped music of @LDUK.
In terms of recent castings, they are as follows:
LuckyBoy (Thug)
While not a large role, probably one of my most professional to date. I will be playing a thug in Domenic Romano / DomRomArt's upcoming SCAD animation, LuckyBoy. I'd like to thank BrandyBuizel for casting me, as well. This acts as one of my most professional castings to date, considering the amount of individuals involved in the project, the production quality, and the talent I will be voicing alongside. It was actually one of my first direct live recording sessions.
The Blue Ferret Kids (Dukey Terbull)
I was casted as one of the main characters in @LittleRainySeasons / roboticdreamz's upcoming series, The Blue Ferret Kids. I am extremely looking forward to playing the shy, yet "brave" lion, Dukey, within this cheerful animation. I am looking forward to more original animated roles such as this where I can bring a character to life that has yet to be introduced to this world. If you would like me to be a part of your project, please feel free to reach out here or at sennysounds@gmail.com
Ace Attorney: Turnabout Jackpot (Apollo Justice)
I am more than thrilled to be given the lead role in this fan fully animated and written series based upon the Ace Attorney series. Among 200+ others, I was casted as the man himself, Apollo Justice. I'd like to thank LordIban and Looi for this opportunity, I will not disappoint. This is likely my largest responsibility I have been provided thus far, and I expect to prove myself worthy of this position. Join the other 4.7K subscribers and 70k+ viewers to their channel!
Other Castings
Goals
I will be using this section of my updates to inform whether or not my previous goals have been met.
By next month, I hope that I will accomplish the following:
Closing Remarks / Thank You's
I really hope that I prove to be worthwhile of your attention here on Newgrounds (and outside). I anticipate continuing to increase my reputation within this site in order to potentially work in the future with some of my heroes. As such, I will continue to strive for excellence in my personal projects (ODP / SpaceQuest) and external castings.
I am acting as one of the head managers of the next Newgrounds Voice Acting Collaboration, and am certain you will all love it once production completes. Of course I'd like to thank my fellow managers @VoicesByCorey and @JoshDytonVO. I'd also like to thank all of those that I have been working with.
I'd like to thank @Jouste for drawing our Cerberus logo, that you will see shortly.
I'd like to thank Biggs for drawing my updated avatar.
I'd like to thank @Fro for always being by my side and supporting my works, as I am cheering him on in his upcoming Strongman Competition.
And lastly, I'd like to thank you, for reading all of this.
Best regards,
NickSenny